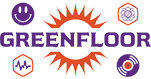 USA / house techno
"Like a prayer"
Marea Stamper de son vrai nom, voulait devenir nonne lorsqu'elle était gamine. Alors oraison de Jeff Mills ou prière de Frankie Knuckles, on ne sait pas, toujours est-il que The Black Madonna a choisi d'explorer les voix impénétrables de la musique électronique.
Depuis 20 ans, ses DJ sets au groove indéniable captivent et électrisent une foule on fire!
Figure incontournable, The Black Madonna est peu à peu devenue LA reine mondiale de la house, à ne louper sous aucun prétexte.